---
Distributions Linux
---
---
LinuxPPC 2000 -- 14 février 2000
http://www.linuxppc.com/
http://linuxppc.org/; ressources de développement Commercial de Tenon Intersystems
Existe pour 68020
Site Officiel de MachTen : www.tenon.com UN*X pour PowerPC 601, 603ev, 604e (non testé sur 604/Mach5 et 750/G3)
Version Developper Release 2.1 (DR 2.1) MaJ 6 de septembre 97.
Cette version peut être installé sur Power Mac Nubus et Power Mac PCI.
L'Open Software Foundation Research Institute (OSF-RI) à décidé en 1996 de porté Linux sur Power Macintosh avec la collaboration d'Apple.
MkLinux, abbréviation de Micro-Kernel Linux, est basé sur le micro-kernel Mach. Notons qu'il aussi à la base de Rhapsody, BeOS et de bien d'autres Un*x.
Prime Time Software : www.ptf.com
Le site officiel d'Apple : www.mklinux.apple.com UN*X pour PowerPC 601, 603ev, 604e (non testé sur 604/Mach5 et 750/G3)
abbréviation de Monolithic Linux, aussi appelé LinuxPMac. C'est une version dérivé de MkLinux ne s'appuiyant pas sur un micro-kernel et prenant donc directement en charge la plate-forme matérielle. http://www.yellowdoglinux.com/
YellowDog Linux Linux fonctionne sur tout ordinateur compatible PC équipé d'un processeur 486 au minimum. Bien que pouvant théoriquement fonctionner avec 4 MB de mémoire, nous vous recommandons vivement d'équiper votre ordinateur de 8 MB de mémoire et 16 MB si vous désirez utiliser X-Window de façon intensive, notamment avec des applications de traitement d'images. http://www.berolinux.za.net/
BeroLinux 1.0 -- 5 mars 1999
BeroLinux is a new Linux distribution based on Red Hat 5.2, intended to make it easier to use, safer and faster. Among other things, BeroLinux includes Kernel 2.2.x, KDE, GNOME and TrueType support, as well as ISDN and CD-Writer support.
Changes: initial version.

http://www.calderasystems.com/
Caldera OpenLinux eDesktop 2.4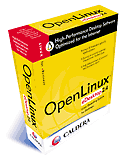 Caldera OpenLinux eServer 2.3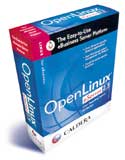 Caldera OpenLinux Application Server 2.3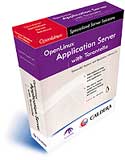 Caldera OpenLinux eBuilder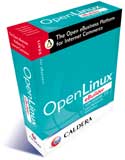 Caldera Linux Technology Preview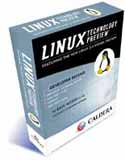 Caldera OpenLinux is designed for corporate commercial use. Their bundles include Star Office (personal use), and KDE. See their web site for other commercial packages they distribute.
Platforms: Intel only
Kernel: 2.2

http://www.crhl.com.br/
Conectiva Red Hat Linux



http://www.debian.org/
Debian GNU/Linux 2.2 -- 14 août 2000
Debian Linux is almost unique now in that it has no specific commercial backer. Instead Debian is maintained by a team of volunteers in the same manner as the kernel and anyone can take the images and make Debian CD's freely.
Debian GNU/Linux 2.1 'Slink' has officially been released on March 9, 1999 for the SPARC, Intel x86, Alpha, and Motorola 680x0 architectures. Release notes, installation instructions, and other information is available here. Debian GNU/Linux 2.1 contains over 2250 precompiled binary packages contributed from over 400 developers, including all of the favorites: web servers, GIMP, gcc, egcs, XFree86, SQL servers and many other tools and utilities. Read the press release for further details.
Platforms: Alpha, Intel, m68k and Sparc
Kernel: 2.2 http://definite.ukpost.com/definite.html
Definite Linux is a UK based derivative of Red Hat, as a two CD set (although you can get just the binaries CD if you want). Definite make a point of rapid updates and remaster their CD's regularly for the latest cutting edge fixes.
Platforms: Intel
Kernel: 2.0

http://www.delix.de/
Racheté par RedHat
Delix DLD is a Linux distribution targetted at the German market. They also sell a version of it together with CDE and AcceleratedX. They also provide German language support, a collection of archive CD's and a various commercial programs.
Platforms: Intel, Alpha
Kernel: 2.0

LST is a German Linux distribution with strong internationalisation support as well as the basis for the current Caldera release.
Platforms: Intel
Kernel: 2.0

http://www.linux-mandrake.com/
Mandrake Linux Essential 7.1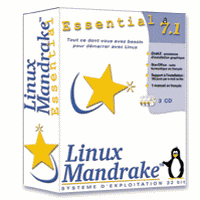 Mandrake Linux Powerpack 7.1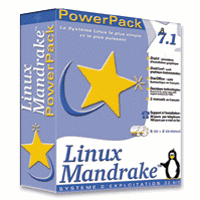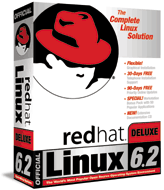 http://www.redhat.com/
Red Hat Linux 6.2 -- 26 avril 2000
Red Hat Software brings you the latest release of the essential Linux operating system. This versatile distribution can be a server or desktop at work or at home. Everything you need to set Red Hat Linux up as a web server, email server, DNS server, news server and more is included, along with software for email, browsers, publishing, calendars, internet tools, and much more.
Changes: Symmetrical Multi-Processor Support, two Graphical User Interface options and Enterprise and Internet Application support.

Red Hat produce Linux CD distributions that are oriented around simple management and total upgradability. Red Hat includes graphical and web based configuration tools, RPM package management, and extensive multiplatform support.
Plateformes : Sparc, Intel and Alpha. (Unsupported: PPC, ARM, m68k, SGI)
Composants : 2.2
Revendeurs UK : IsleSoft, Interactive Ideas 0181-447-9288, Multimedia Experience 0170-621-0022 [Commercial sales only], PC Bookshop, ProSoft 01625-430-085, Starstream, CD-ROM Distribution PLC (trade) eShop UK Simply Computers
UK Support Partners: MultiThread.


ROCK Linux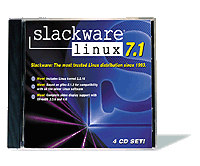 http://www.slackware.com/
Slackware 7.1 -- 24 juin 2000
Slackware is the longest-running distribution of the Linux operating system. Slackware offers a stable and secure version of Linux that is perfect for home, office, or educational use. Slackware is easy for beginners to install, but contains all the advanced features required by the experienced UN*X power-user.
http://www.smalllinux.com/
SmallLinux a disparu ? http://www.stampede.org/
Stampede GNU/Linux 0.90 -- 15 août 2000

http://www.suse.com/
SuSE Linux 7.0 Personal Edition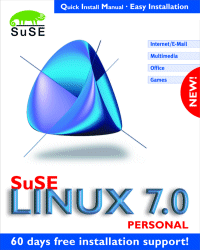 SuSE Linux 7.0 Professional Edition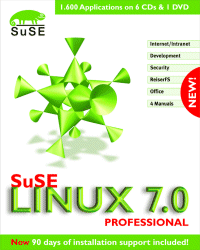 S.u.S.E produce a very comprehensive English and German language CD-ROM distribution and a collection of archive CD's. They also provide German language support and applications.
SuSE inclut pres de 1000 paquetages.
Plateformes : Intel only
5-CD-ROM accompagnés d'un manuel de 540 pages et d'une disquette d'amorçage
Composants :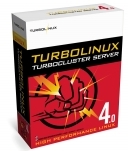 http://www.turbolinux.com/
TurboLinux v4, the first version of the popular Linux distribution to be sold as a boxed set, is available now. TL 3.0.1 will offer a comprehensive installation guide and manual, is priced at $49.95 and can be ordered online. TurboLinux, the most popular distribution in Japan, if not Asia, has begun a large transition into the U.S. Market. Pacific HiTech (PHT) has been a major part of the Linux community for years. PHT recently opened it's new US offices in Oakland, CA and is working on more focused Linux products, beginning with TurboLinux Server, slated for release in the first half of '99, followed by other releases, including TurboLinux 4.0 in early summer '99.


http://www.pht.com/
Pacific HiTech produisait TurboLinux, une distribution Linux avec une version anglaise et japonaise. Elle fournissait TurboPkg, une application de mise à jour automatique des paquetages, et TurboDesk, un environnement de bureau customisable. TurboLinux est la distribution la plus populaire au Japon. Elle est basé sur RPM.
Plateformes: Intel
Composants : 2.0
Revendeurs UK : CD-ROM Distribution PLC (trade) eShop UK UltraLinux

Mini-FAQ
Q: Why do many of the distributions seem to be based on a small number of other distributions.
A: Slackware, Red Hat and Debian distributions are all freely usable and extensible. As a result many vendors use these as a basis for value added items or put their own slant on the same work.

Q: How do I know a given program will run with a given distribution ?
A: Firstly all distributions should be following FSSTND (The Linux File System Standard). Secondly the "rpm" install system created by Red Hat is pretty much becoming a defacto standard, and can be freely used with other distributions too.
Autres
Distrib hautement sécurisée
Transmeta Mobile Linux
http://www.transmeta.com/
Lineo Embedix
http://www.lineo.com/products/embedix.html
Lynx BlueCat Linux
http://www.bluecat.com/
MontaVista Hard Hat Linux
http://www.mvista.com/
EMJ White Dwarf Linux
http://www.emjembedded.com/linux/ http://www.ikarios.com/
Ikarios vend au moindre des couts des CDs de touts lesdistributions majeurs disponibles (Debian, DemoLinux, RedHat, YellowDog, Mandrake, OpenBSD, Corel) http://www.infomagic.com/
Infomagic produce large numbers of Linux archive CD sets from ftp archives and now their own "Infomagic Workgroup Server" release, based upon Red Hat Linux. Take a look at their catalogue for a good list.
(Work Group Server) Platforms: Intel
Kernel: 1.2.13/2.0
UK resellers: CD-ROM Distribution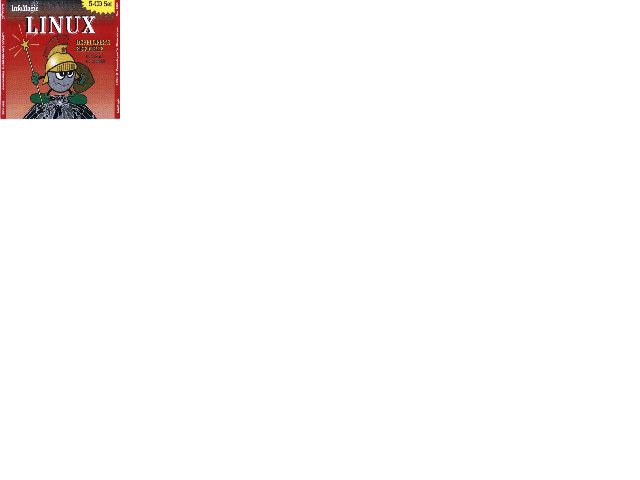 PLC (trade)