---
Mac OS X alias Rhapsody
---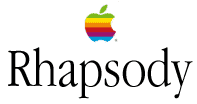 Rhapsody
Rhapsody est le nom de code du prochain système d'exploitation d'Apple qui sera proposé au public en 1998. Rhapsody est l'autre grand système d'exploitation d'Apple, au sein duquel Mac OS représentera une option pour les utilisateurs et les développeurs. En tant que plate-forme de développement d'applications, Rhapsody constitue une innovation, permettant de construire des applications fiables riches de contenu, sans sacrifier l'immense logithèque existant déjàpour Macintosh.
Communiqué de presse :
la plate-forme de développement "Yellow Box" "Yellow Box", nouvelle plate-forme de développement d'Apple : la "Yellow Box" (Boîte jaune) constituera la base du prochain système d'exploitation d'Apple, dont le nom de code est Rhapsody. Rhapsody est développé en version PowerPC et en version Pentium. Illustré par des schémas montrant l'architecture de la "Yellow Box" employée sur différentes plates-formes, ce livre blanc présente les grandes lignes de la solution d'Apple pour le 21ème siècle.
---
Welcome to the
Rhapsody Information Archive
This page is dedicated to archiving all the currently known--and suspected--facts about Rhapsody, Apple's next-generation operating system based on NeXT's OpenStep.

Hardware:

Fully PowerPC Native/Optimized for Pentium
Mac version will only run on PCI/PowerPC Macs, with the possible exception of the PowerBook 1400 (rumors abound that the PowerBook 5300 may also be supported).
Intel version will run on most Intel-compatible PCs with a 486DX processor or better.
Rhapsody Premiere will require 32mb of RAM (48mb is recommended); Yellow Box for Windows and the Mac OS should add a small additional RAM overhead to the primary OS when in use.
Rhapsody DR1/PPC runs on the follow machines in a stock configuration:

8500 (all versions)
9500 (all versions, although MP version will only utilize one CPU)
8600 (all versions)
9600 (all versions, although MP version will only utilize one CPU)
7600 (all versions, although results are varied and this model is not "officially" supported)

The Developer Release 1.0 for PowerPC will also support these machines (unofficially):

PowerTowerPro (with ixMicro/IMS or ATI video card replacing stock unit, Apple CD drive may be required. Recommend installing on "supported" machine and transferring hard disk to unsupported machine.)
PowerCenter Pro (" ")
PowerTower (" ")
UMAX s900L (" ")
PowerMac 7500 (with 604(e) upgrade card installed)

Any and all of these machines appear to run the Developer Release without error when using Newer Technology PowerPC 750 upgrade cards, as well. PowerLogix models have not been tested.
Intel version may not run properly on machines that mix IDE and SCSI devices. Complete information on hardware support is forthcoming...if you have any information on your experiences with DR1/Intel, please share them!
Rhapsody DR Intel/PPC hardware information is forthcoming. Thus far, PowerMac G3, and PowerBook 3400/PB G3 models are known to be supported in addition to DR2-supported machines.

OS Features:

Preemptive multitasking, advanced multithreading, symmetric multiprocessing, and protected memory to be implemented at the kernel level by Mach 2.5"+++", and later, Mach 3.0 (according to rumor).
Rhapsody Finder(s) to be laid on top of the core OS, which includes a full version of BSD 4.4, including a few system-standard utilities. A few BSD applications already ported to the Rhapsody UNIX terminal are available here.
Users will be able to run command-line applications like the Apache web server or IRCii right out of a terminal window in the Yellow Box Finder.
Apple technologies will be integrated; QuickDraw 3D, QuickTime, and QuickDraw GX typography, among others, should be a part of Rhapody in the Premiere release. Unified and later versions may very well use OpenTransport or a similar Streams-based TCP/IP architecture instead of the BSD Sockets networking that OpenStep currently uses. AppleTalk serving will be handled through a technology ported over from Apple's AUX operating system.
Rhapsody for the PowerPC includes a Mac OS compatibility layer entitled the "Blue Box," which allows a majority of Mac OS applications to run under Rhapsody. The Blue Box runs as a Yellow Box process, and is able to take some advantage of the Yellow Box's advanced features, for example the Blue Box 1.0 has tremendously faster disk and networking I/O than the original implementation of Mac OS 8.0.
The Mach kernel's excellent multiprocessing features allow Rhapsody to take full advantage of 20 or more processors, a marked improvement over the Mac OS or even WindowsNT, neither of which use additional processors nearly as effectively as the first. This is called "scalability," and Rhapsody should have a distinct advantage over many other operating systems in this respect.
The Yellow Box, in its final incarnation, will have a very Mac-like interface, the traditional Mac OS 8 "grayscale" Finder appearance being implemented--with a few modifications such as bi-directional scroll arrows. In the Developer Release, many applications retain the NeXT/OpenStep appearance; scroll arrows are both at the bottom of the bar, and icons are massive TIFF files.
True Multi-User system; the system's ability to access your personal user environment from any Rhapsody-based computer -- anywhere -- is part of the OS's main appeal. Also, a single user can create as many accounts -- for varied purposes such as graphics work, web design, general business tasks, Internet, and game play -- as he or she wishes, adding greatly to the user's ability to organize his or her work space.
Will support a wide array of file systems, including Windows' FAT32/FAT16, Apple's HFS/HFS Plus and UNIX UFS, among others. The Developer Release 1.0 uses "Rhapsody UFS" exclusively.
Versions around or after the Unified Release are rumored to be optimized for the PowerPC 750 processor.
Rhapsody will support cross-platform FAT binaries (a single application can be run on any hardware platform supported by Rhapsody).
Multiple resource directories: Rhapsody files can have multiple layers of resources, allowing one program to support multiple languages or interfaces at once; i.e., the same program conforms to the Finder interface on the PPC version, and to the Windows look and feel running under Win32.

Currently estimated release dates for Rhapsody versions:

Rhapsody Developer Release 1.0 for PPC: Released.
Rhapsody DR1/Intel: Released
Rhapsody DR2 release: WWDC, May
Rhapsody CR1 beta: July
Rhapsody CR1 release: Late Summer
Rhapsody CR2 alpha/beta: Late 1998
Rhapsody CR2 Release: early 1999

Rumored Features, by Release:

Rhapsody CR1

Nearly complete Yellow Box APIs.
Mach 2.5+++ or 3.0 kernel/microkernel
Preemptive multitasking
Protected Memory
Partially implemented Mac OS Advanced look-and-feel
Multi-user capabilities
UNIX command line, most likely still required for some functionalities
UFS file system, support for other FS's unknown
Should ship with Blue Box 1.0
QuickTime Media Layer (QTML) technologies full implemented.
Complete or nearly-complete developer toolset, supporting all of Rhapsody's excellent development options.
Draggable NeXT-style "tear-off" menus
All other features already included in the Developer Release.
Support for most PCI PowerMacs and Clones, as well as the PowerBook 3400 and PowerBook G3.
Projected final-version release: Summer

All features of Rhapsody Premiere
Complete Yellow Box APIs
Mach 3.0 microkernel
Nearly or Fully complete User Interface features
For most if not all users, UNIX command line will be available, but not necessary
Advanced Graphical network administration options
All known bugs from Premiere fixed
Interface inconsistencies (NeXT interface showing up) in some system tools absolutely eliminated
Projected final-version release: Early 1999
A large number of currently unclear features.

Last updated: 4.8.98 by rcm.
Updated 8/25/98

Latest Build: Internal-only seeds of Carbon on OS X Server. The flow of "Rhapsody" into the "full" Mac OS X

What's known so far:

One of the best resources is Apple's OS X Developer page. This has all the important information for those looking to adopt OS X.
The "Advanced Macintosh Look and Feel" is the key. Mac OS users will simply see new features added to their familiar interface, and the ease of use that Wintel users dream about will be backed up by a technology that leapfrogs much of the Windows APIs entirely. Once it ships, OS X will sport an interface far advanced over Mac OS 8.5 and its Theme offspring.
Multiple Desktops are a shoo-in. OS X is a multi-user system from the ground up.
Will feature BSD 4.4 UNIX on top of a heavily customized Mach microkernel, based on the 3.0 and 4.0 releases of Mach.
Although just short of certifiable, many POSIX-compliant applications should compile on OSX's command line and run perfectly.
While the Carbon APIs will allow Mac OS developers to quickly port their applications to a preemptively multitasking environment with protected memory, the Yellow Box APIs will still deliver superior object-oriented technology and access to even more advanced features like preemptive multithreading.
The Yellow Box and Java will be moving together in ways that may surprise a lot of users, but fear not -- those who want to use one technology or the other rather than Apple's crossover capabilities for the two will have no problems doing so.
Java speed and ease of development on OS X are planned to be second to none. As an upstart platform, superior support of the Java platform is important to having a large number of applications marketed for the OS.

Mac OS X Server 1.0 (Rhapsody CR1)

Expected release date: October 15 (approximate)

Significant speed, compatibility, and stability upgrades over Developer Release 2.
Interface consistency is expected to be excellent, but some small NeXT-isms will continue where useful or difficult to remove.
Consistent with the OS's "Server" title, the BSD UNIX command line and a great many utilities will be prominently featured.
Many server applications, from Web to Email to FTP and AppleShare IP, will be bundled.
The Blue Box will most likely include Mac OS 8.5.
Officially supported hardware should include the entire PowerBook G3 Series and PowerMac G3 lines. It is not confirmed, but recent reports have suggested that, on OS X Server's materials the entire PCI PowerMac (excluding 603-based machines) line and the PowerBook 3400 will be listed as "compatible but not supported."
Yosemite (next generation Professional workstation) will run OS X Server out of the box.
On the Intel platform, Pentium and Pentium II-based computers with supported hardware (see Apple's page on the subject) should run with full compatibily to PowerPC (except for the lack of Blue Box). Best performance is to be found with fast hard disks.
USB Support is expected to be in place for both platforms. Firewire support is unknown.
Graphics acceleration for ATI and ixMicro cards is expected to be supported.
At present, shipping prices are unconfirmed, but expected to be approximately $180 (this could drop, if Apple elects to push for wider adoption). This is primarily based upon the licensing costs Apple must pay Adobe and several others for technologies in the Server edition of OS X that will be eliminated in the consumer release of the operating system next year.
Nom de code "Rhapsody"
Annonce le 21 mai 2001 au WWDC 2001, San Jose.

Cette version nécessite :
Un Macintosh Server G4, Power Mac™ G4, Power Mac G4 Cube, iMac®, Macintosh Server G3 ou Power Macintosh® G3
128 Mo de mémoire vive
4 Go d'espace disque
Annonce le 18 juillet 2001 au MacWorld Expo 2001, New York.

Disponible gratuitement, hors frais de port, aux possesseurs d'une ancienne version de Mac OS X.

Annonce le 25 septembre 2001 au Seybold SF 2001, San Fransisco.

Cette version nécessite :
Un Macintosh Server G4, Power Mac™ G4, Power Mac G4 Cube, iMac®, Macintosh Server G3 ou Power Macintosh® G3
128 Mo de mémoire vive
4 Go d'espace disque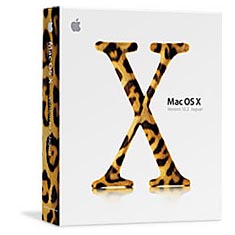 Nom de code "Jaguar"
Annonce le 17 juillet 2002 à MacWorld Expo, New York.
Sortie le 24 août 2002 en France.

Plus de 150 nouvelles fonctionnalités.dont :
Une nouvelle version de Mail conçue pour éliminer les courriers indésirables
iChat, un client de messagerie instantanée compatible AIM
Un carnet d'adresses au niveau du système
InkWell™, un logiciel de reconnaissance d'écriture manuscrite
QuickTime® 6 avec support du format MPEG-4
Accès universel optimisé
Finder™ amélioré
Sherlock® 3 avec Services Internet
Rendezvous™, une technologie de réseau à domicile
Annonce le 17 juillet 2002 à MacWorld Expo, New York.
Sortie le 24 août en France.

Cette version fonctionne avec :
le nouvel Xserve monté en rack d'Apple
les Macintosh Server G4, Power Mac G4, Power Mac G4 Cube, iMac, Macintosh Server G3 et Power Macintosh G3
128 Mo de mémoire vive
4 Go d'espace disque disponible
Plus de 50 nouvelles fonctionnalités.dont :
Nouveaux outils de gestion de réseau NetBoot et NetInstall basés sur la nouvelle architecture LDAPv3 OpenDirectory d'Apple.
Nouveau NetBoot pour le lancement de plusieurs systèmes Macintosh à partir du réseau au lieu de leur disque dur local; ce qui rend l'administration du système d'exploitation aussi simple que la gestion d'un seul ordinateur
Nouveau Network Install pour automatiser l'installation du logiciel Mac OS X et des applicatifs directement via le réseau
Nouveau gestionnaire de groupe de travail offrant une puissante nouvelle console d'administration qui fonctionne avec tout répertoire de serveur LDAPv3 pour que la gestion des utilisateurs, groupes et ordinateurs puisse être centralisée
Nouvel Open Directory, un répertoire de serveur LDAPv3 facile à mettre en place disposant d'un serveur de mot de passe sécurisé intégré
Nouveau QuickTime Streaming Server 4 et QuickTime Broadcaster, pour saisir et encoder du contenu QuickTime au format MPEG-4 pour la diffusion en direct sur le web
Services de fichiers et d'impression améliorés comprenant le support de quotas, des transferts de fichiers sécurisés et le partage NFS via AFP
Services web revus et améliorés comprenant le support de SOAP, XML-RPC, Java VM optimisé pour serveur, JSP et Java Servlets
L'administration à distance du serveur comprenant le nouveau Server Status Tool et le support de SNMP
Nom de code "Panther"